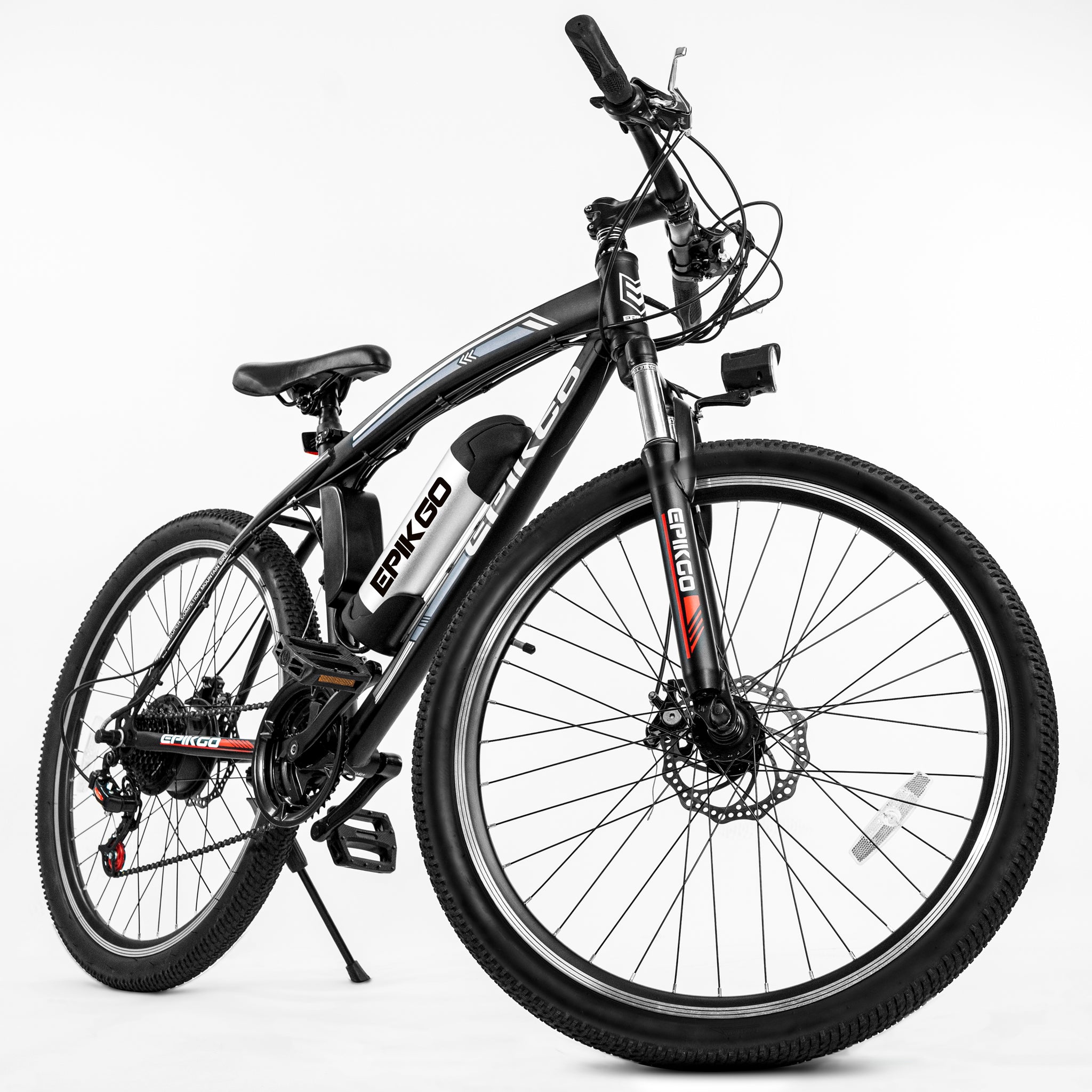 EPIKGO Electric Bike
Features 
Choose How You Ride - Use a built-in Pedal Assist System (P.A.S.) matched with a high-quality 3x7 Speed Gear Shifter, to match your mood, intensity, and experience level. The 21-Speed Gear Shifting can instantly change gears during riding based on where and how you ride.

Ultra-Long Battery Life - Ultra-long and efficient battery system to power riders throughout the day, afternoon, and night with a 8Ah/36V lithium-ion battery which can last up to 20 miles on just a single charge. Ride longer, faster, and farther with a world-class battery.

Balance, Speed, Power - Designed using a revolutionary Triple Triangle Frame using actual carbon steel to ensure greater balance, support, and riding performance. Reach speeds of up to 20mph and race through muddy mountain trails, crowded city streets, and local parks.

High-Performance Motor - A powerful and high-performance motor using 250Watts of pure power to supercharge overall performance and riding. Plenty of power and torque during acceleration, ascend up hills of 20° gradients, and overall a more intense ride.

Installation Is Simple - Comes 85% pre-assembled! The majority of our bike parts come pre-assembled but some minor installation is required. Simply follow the step-by-step guide found within the user manual for a fun, fast, and easy process. **Note: Installing the Cable Management Clip is OPTIONAL.

Tested by ISO17025 Accredited Lab to comply with UL2849 standard 
Product Description
EPIKGO has created the model E-Bike by designing an e-bike with advanced P.A.S. and a 21-Speed Gear Shifter to match any rider's mood or experience level. A superior battery system for up to 20 miles of riding and a motor that reaches speed of 20mph. Take a step to changing and saving the environment using an electric bike and truly make a difference with EPIKGO.
5-Minute Installation Video Guide
We recommend visiting our quick installation video here: 
Please watch the "How to Adjust your Epikgo eBike Brakes." video here.